Meeting with Build Bangladesh
The CFC received Mr. Farhad Reza, President and Co-Founder of Build Bangladesh, and two members of his team, Mr. Erad Kawsar, Country Director, and Mr. Alvi Muhtasim, Project Architect, virtually on 18 November 2021.
H.E. Ambassador Sheikh Mohammed Belal, Managing Director of the Common Fund for Commodities (CFC), accompanied by Mr. Andrey Kuleshov, Strategy and Development Advisor of the CFC, and Ms. Eva Johansson, Senior Technical Assistance Facility Manager, received the delegation.
After exchange of usual greetings and pleasantries, Amb. Belal inaugurated the meeting and handed over to Mr. Reza for an introduction of Build Bangladesh, an impact investment platform being active in a wide range of areas, from technologies to infrastructure and housing. During the meeting, the delegation of Build Bangladesh elaborated on their innovative approach to impact investment by showing various aspects of their projects on the ground. The meeting further touched upon the similarities of Build Bangladesh and the CFC in using impact fund modalities to alleviate poverty and resolved to work together for more grassroot innovations.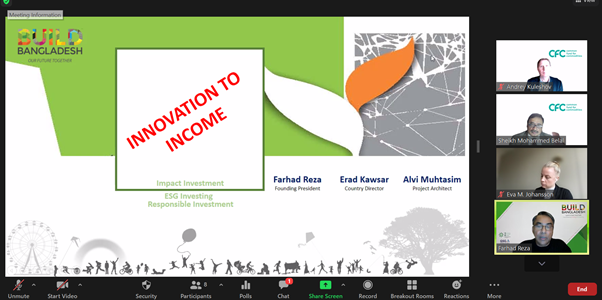 Ambassador Belal urged Mr. Reza and his team to disseminate the CFC's Call for Proposals so that more quality projects could be considered in the future. He sought their help to keep this "bottom-up" approach functional with heightened exchanges among the potential applicants and the CFC. Before conclusion, Amb. Belal thanked Mr. Reza for his lifelong devotion to making a difference with innovation and creativity. The meeting was concluded with the mutual resolve of remaining engaged and doing the necessary follow-up in the days to come.