The CFC supports female-led macadamia nuts exporter from Kenya
The CFC supports Exotic EPZ Ltd to upscale market potential for sustainably sourced macadamia nuts from smallholders in Kenya. Owned by three female entrepreneurs who acquired the business in 2017, Exotic is the sole female-led macadamia nuts processor and exporter in Kenya supplying high-quality nuts to international markets. The CFC has extended a USD 0.6 million trade finance loan for working capital purposes to increase supply and market access for Kenyan smallholder farmers.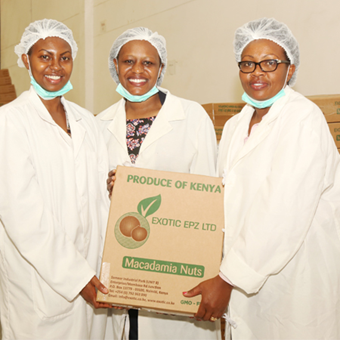 Macadamia nuts have experienced a surge in global demand given their increased health benefits claims and use in various sectors. Kenya's annual production has increased fourfold over the last decade, making the country the third-biggest global producer of macadamia nuts. Kenyan macadamia is mainly produced by over 100,000 smallholder farmers, cultivating the trees on mixed biodiverse farms with an average of 6 -12 trees intercropped with coffee or other commodities. Macadamia offers an important source of income for smallholder farmers in Kenya, making it one of the most lucrative cash crops in the country after tea.
Although the macadamia nut industry is a promising one for Kenya's economy, gender-related constraints hamper women's opportunities in the value chain. Women generally participate in labour-intensive farming or processing activities, while men are marketing the nuts. Exotic is breaking this cycle by being the first and only 100% female-owned processor sourcing macadamia nuts directly from over 2,000 small farmers. The company is strongly built upon the principle of women's economic empowerment. By training female farmers, providing linkages to health insurance funds and use of mobile payment and traceability tools monitoring farm details and crop yields, Exotic incentivizes female farmers to become more independent and increase income. Management and staff are sensitized to, and educated about, Exotic's gender-inclusion policies and practices, offering equal promotion opportunities and an equitable workplace.
Exotic is also working with its farmers to plant new macadamia seedlings and drought-resistant moringa crops to restore land and increase biodiversity. Climate change effects, such as droughts, and land degradation has caused serious effects on Kenyan farming communities in recent years. Macadamia is an important agro-forestry crop for farmers, which can be interplanted with other crops and once established, it needs minimal care in comparison to other tropical trees. Exotic is committed to further reduce the carbon footprint by promoting energy efficiency and implementation of environmental management principles, such as transforming waste of macadamia shells to by-products fueling the factory.
The CFC loan will be used to increase its supply program to 5,000 smallholder farmers and expand macadamia production and export by growing its international customer base in Europe, the United States and Asia. The company is also considering to invest in a new warehouse, oil processing and packaging machines to diversify into new value-added products like macadamia oil, sesame oil and moringa oil. Solar-based installations of the new factory will complement at least 20% of the energy needs for the factory and waste management practices like recycling of shells will be implemented, therefore safeguarding environmental preservation.
Ambassador Sheikh Mohammed Belal, Managing Director of the CFC, commented on this partnership between the CFC and Exotic: "We are delighted to partner with Exotic EPZ, at a time when women's role in building sustainable agri-commodity chains is increasingly recognized. While rural women are disproportionately impacted by poverty and climate change due to their social roles, Exotic has been instrumental in developing an inclusive outgrower model centered around value creation and striving for positive environmental impact."
Jane Maigua, owner and CEO of Exotic EPZ: "We are excited to have partnered with the CFC, who shares our vision of fostering social development and unlocking the potential of the Kenyan macadamia nuts sector. The partnership will propel our company's goal of increasing reach to more farmers, providing them with sustainable market for their produce. The demand for macadamia is steadily rising and Exotic EPZ has positioned itself to provide a bridge to export market, for the thousands of macadamia farmers in Kenya whilst building their capacity to increase their productivity and yields at farm level amongst other value-added services planned. In doing so Exotic is also creating decent jobs for many women and youth in its factory and in the supply chain."
Note to the editor: The Common Fund for Commodities (CFC) is an international financial institution established under the framework of the United Nations. The CFC provides financing for projects in commodity dependent developing countries to address challenges they face in the commodity value chains.
For more information: www.common-fund.org