CFC ANNUAL REPORT 2020
Please find our annual report 2020, which, we believe, will provide you with a comprehensive overview of the accomplishments in project related sustainable activities of the Common Fund in the past year. Though we all are severely handicapped by the ongoing pandemic, the CFC, nonetheless, happy to report that the year 2020 has been full of new initiatives including, among others, the workings of "Emergency Liquidity Facility (ELF)" to provide services to the COVID-19 affected businesses as well as activities of the working group dedicated to form the "Commodity Impact Investment Facility (CIIF)".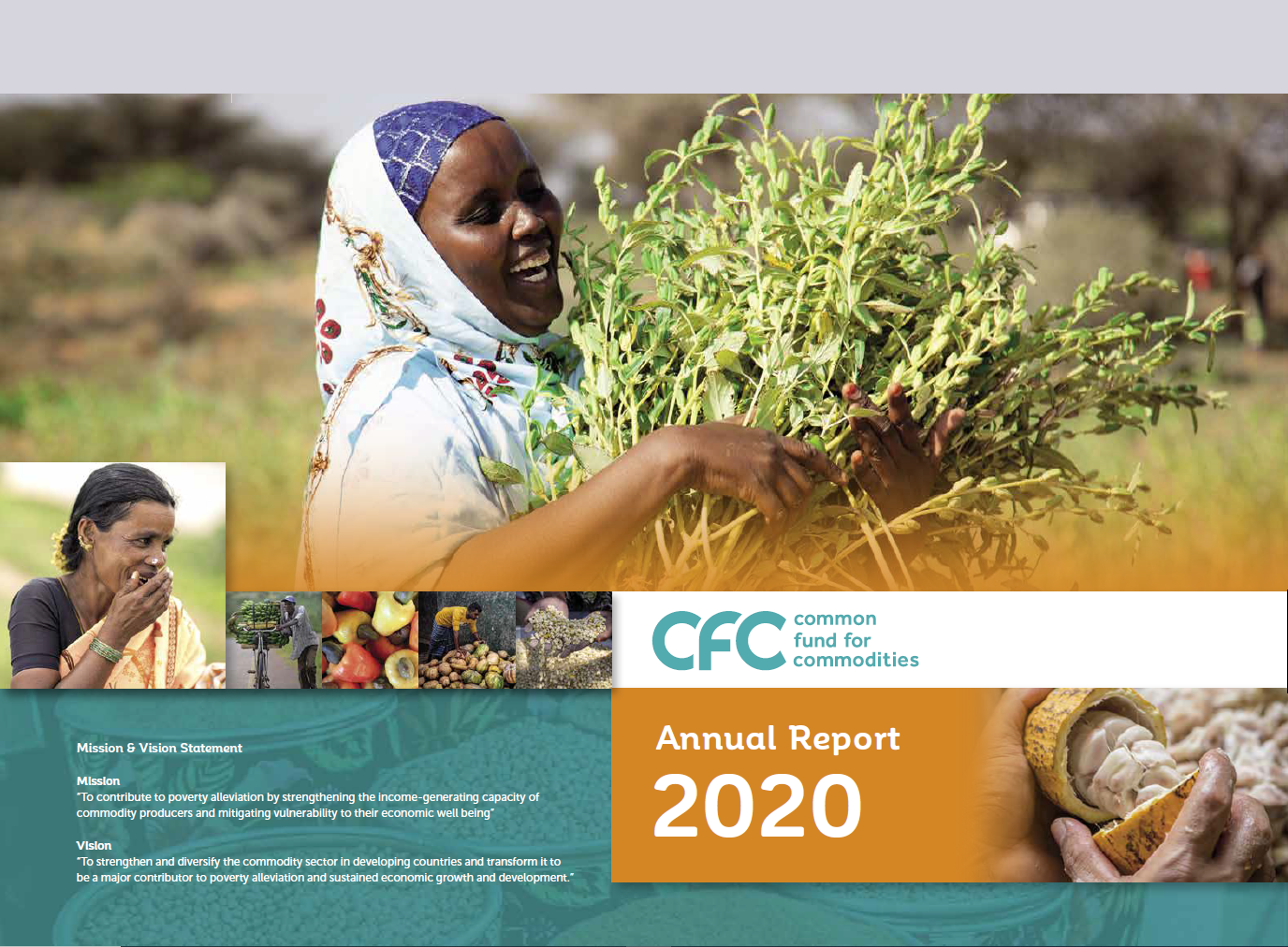 Implementation of projects remained the core function of the CFC during the period under reporting. In this edition, we present you with a feature article on measures to end commodity-driven deforestation and looking for ways to promote reforestation. This feature article is a reiteration of our commitment for a deforestation-free commodity value chain approach. The CFC shall continue its zero deforestation (ZD) commitments to highlight the role of the production and trade of commodities as a cause of deforestation, while also recognizing vital place that forests play in global climate, biodiversity, and livelihoods.
In 2020, our focus has been on new activities which are aligned with the CFC's vision of the role of commodities as the foundation of the economic development for the poor. We continue to target critical weaknesses along the value chains affecting the smallholder producers, which enables us to achieve visible results with maximum efficiency. This also helps us to prioritize innovative projects with high development impact and replicability as well as financial sustainability. Given our work in a financially high-risk SMEs/smallholders communities, the CFC always remain on the lookout for external support so that in can continue to invest in communities that others find too risky to invest.
For the first time, this report further includes a section analyzing the impact of the CFC project portfolio, which is a regular new feature of the report. We believe that impact reporting shall remain a focus in the CFC as we strive to complement the achievement of SDGs. To exemplify the impact of the CFC, two success stories are presented: a macadamia nut processor in Kenya which creates better working conditions and opportunities for nut growers, and a vanilla flavour manufacturer in Tanzania with a vertically integrated vanilla chain. We remain deeply grateful to our partners/beneficiaries for their all out support to help us creating lasting impacts, as we endeavored to "walk back" along the value chain, to provide more income to the smallholders and SMEs.
At the time of writing this letter, we are sadly reminded how poverty anywhere in the world could cause havoc for all in this globalized world. It is, therefore, doubly important for us to work together, as a global community, to alleviate the commodity dependent people of developing countries from poverty with an acute sense of innovations and creativity.
This Annual Report, therefore, could be seen as a prologue to our hugely versatile works that we are trying to develop for a post COVID-19 world and its recovery. We are convinced, and as such very committed, to do more in the days to come with your active patronage and leadership.
We hope you find this Annual Report to be both informative, useful and as such, encourage you to share it with your associates. We will be happy to receive any feedback at managing.director@common-fund.org that you may have on this report or else.