INDEPENDENT COMPLAINTS MECHANISM
The CFC has implemented an Independent Complaints Mechanism which allows external parties to file a complaint concerning projects financed by CFC.
The CFC strives to achieve positive sustainable development outcomes through its impact investments by following a human and environment-centered approach in business. Such business activities cover all segments of the value chain. This includes, but is not limited to, productivity gains, product diversification, services with creative interventions and innovations that help all participants. Investments are targeted to smallholders and SMEs in the process of value generation to improve the economic, social and environmental well-being of its poorest participants at the bottom of the pyramid. At the same time, it is recognized that any activities may also have unintended or unforeseen negative impacts on local or ethnic communities and the physical environment within which they live or upon which they depend for their livelihoods. At this especially challenging time of COVID-19, CFC remains committed to working harder to ensure that the impact of its investments is positive for all parties and that any negative impacts are as limited as possible.
This Mechanism ensures the right to be heard for Complainants who feel affected by a CFC financed project and resolve the dispute. This is also a learning mechanism for CFC to draw lessons from current and future operations.
Please click below for the Independent Complaints Mechanism.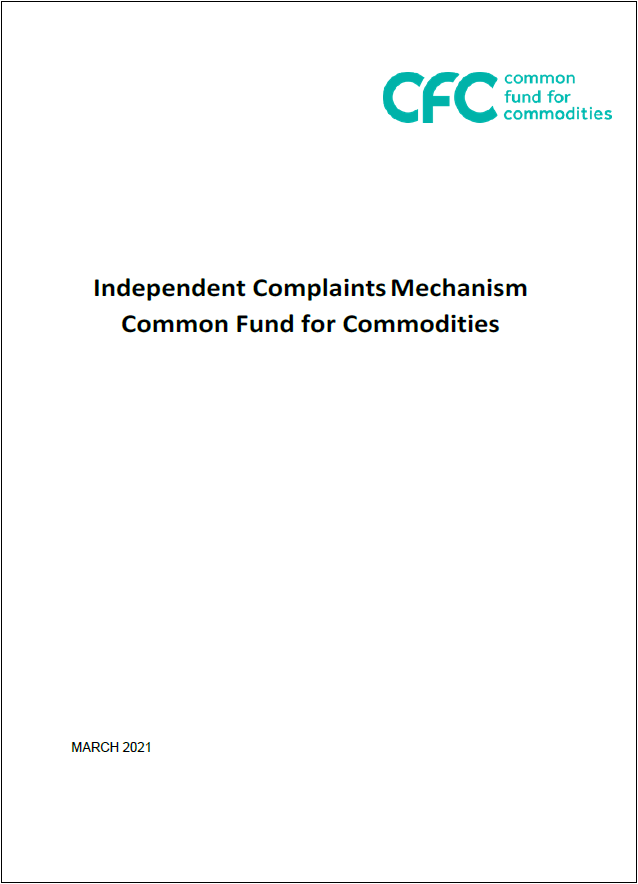 INDEPENDENT EXPERT COMPLAINTS MECHANISM
The Complaints Mechanism is supported by an independent expert who assesses and handles CFC project-related complaints in line with the Independent Complaints Mechanism of the CFC.
The external independent expert appointed by the CFC for the period 1 January 2022 - 31 December 2023 is Mr. Eduard C. de Bouter.
Mr. de Bouter is a legal consultant with over 30 years' experience. Specialized in corporate law, contracts, financial law, anti-corruption, Alternative Dispute Resolution, arbitration, and customary law on land tenure, Mr. de Bouter is a former partner of the Dutch law firm De Brauw Blackstone Westbroek and holds a Master's degree in Law from Harvard Law School.
Mr. De Bouter worked as a part time external legal consultant to the CFC during the period February 2015 - February 2016 when the position of legal officer of the CFC was vacant.
Complainants can submit a complaint by sending an e-mail to:
complaints@common-fund.org.