CFC Consultative Committee recommends 10 new investments
More than 71,000 smallholder farmers are expected to benefit from 10 investments recommended at the 71st Meeting of our Consultative Committee (CC) held last week. 
The CC assessed the potential of each proposal to create long-lasting impact, recommending that all 10 should go forward for approval by the Executive Board (EB). The total investment will amount to USD 251.3 million, including the CFC contribution of USD 6.8 million. 
Investment proposals were submitted to the CFC as part of our 21st Call for Proposals, during which we received more than 200 applications for financing. Our 22nd Call for Proposals is currently open for agribusinesses looking to expand the economic development of their local communities.    
Once approved, the investments will cover commodities such as coffee, honey, soybeans, spices, and vanilla in countries including Colombia, Madagascar, Peru, Tanzania, Togo, Uganda, Yemen, and others. This will both diversify the CFC portfolio and broaden our reach.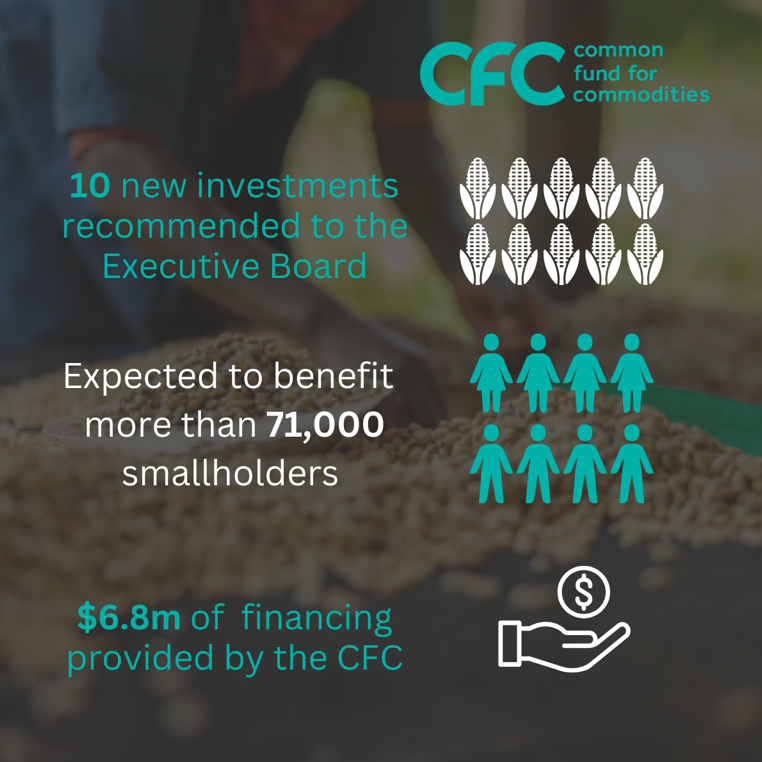 Beyond targeting the CFC's core Sustainable Development Goals (SDGs) – SDG 1 (No poverty), SDG 2 (Zero hunger), SDG 5 (Gender equality), SDG 8 (Decent work and economic growth), SDG 10 (Reduced inequalities), SDG 13 (Climate action) – they also address SDG 9 (Industry, innovation and infrastructure), SDG 14 (Life under water), and SDG 15 (Life on land).  
CFC Managing Director Amb. Mohammed Belal commented: "Developing connections between smallholders and agribusiness SMEs is vital to generating sustainable economic opportunity in developing countries. Without the innovative support we provide, the potential of SMEs that work with commodities to drive local development and boost smallholder incomes is lost." 
The CC also considered an update on the developments with the Agricultural Commodities Transformation Fund (the ACT Fund; formerly the Commodity Impact Investment Facility – CIIF). ACT will lean on the CFC's extensive experience in building relationships and mitigating risk to attract a broad range of investors, enhancing our financial capacity to deliver greater impact. 
The meeting was the first to feature several new CC members. They act as our advisors, using their expertise to guide which investment proposals should be recommended to the EB. The CC is composed of five women and four men, bringing together almost 240 years of experience in building a fairer and more sustainable commodities sector.  
 If you work for or with a commodities business that would benefit from our financing, find out how to apply for investment through our 22nd Call for Proposals, by clicking here.