Completed Project – Development and Commoditization of the Pre-Fabricated Modular Bamboo Housing in Asia and Africa
Project Description
The project aims to build capacity of local communities to cultivate, manage, harvest and pre-process bamboo for the housing industry, and to promote bamboo in the housing market in Asia and Africa as a reliable and environmentally friendly building material. The project provides technical and marketing support to rural communities involved with bamboo related income generating activities in Nepal and Ethiopia, for production and assembly of pre-fabricated bamboo housing panels, by commercializing the technology developed through an INBAR project in China.
Project activities commenced in 2009 and are implemented by the International Centre for Bamboo and Rattan (ICBR) and supervised by the International Network for Bamboo and Rattan (INBAR). With a project dissemination workshop held in Beijing in April 2016, project activities have come to an end and the project is expected to close formally soon.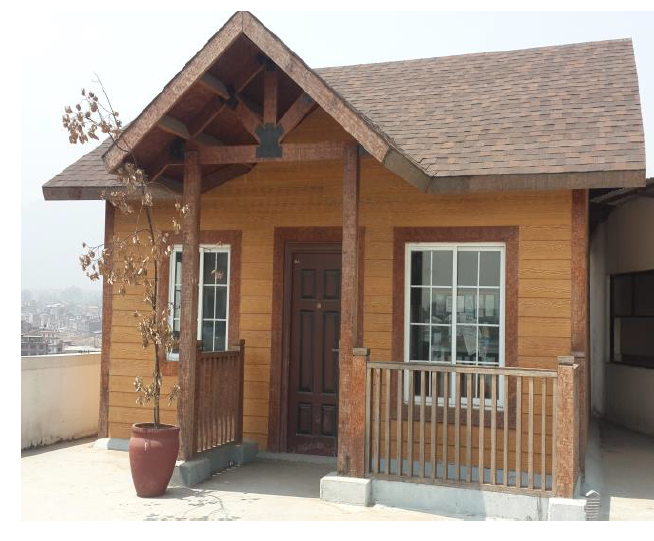 Current status
As the main project activity, bamboo species from both Nepal and Ethiopia have been sent to ICBR in China for conducting strength and durability tests by world leading experts in bamboo technology. At the same time an expert was hired to carry out a comprehensive study on bamboo house design, associated costs, and potential marketing channels.
In each country, a pilot processing facility for the production of bamboo panels was established. 80 technicians from Ethiopia and Nepal were trained in China to fully understand and take into effect the processing facility. Around 1,000 smallholder bamboo farmers were engaged in outgrower arrangements with bamboo processors, and 1,100 farmers received training in sustainable bamboo cultivation practises.
With the exchange and tests of bamboo species, blueprints for the appropriate design, and promising results of a market analysis for cost efficient bamboo housing, the project has created good enabling conditions for development of the bamboo sector in both countries – in Ethiopia a national committee for standardization of bamboo has been set up to promote sector development, and the Ministry of Agriculture has now invested USD 5.3 million on bamboo sustainable land management. In Nepal, the technology transferred under the project has already been adopted by the private sector and Government authorities. These show keen interest to use bamboo composite products in the reconstruction of housing response to a recent earthquake.
Project overview CFC-2013-02-0084 FA
| | | | |
| --- | --- | --- | --- |
| Project type: | Completed Regular Project | Project: | International Network for Bamboo and Rattan (INBAR) |
| Commodity: | Bamboo | CFC Financing: | USD 1,884,630 |
| Country: | Nepal, Ethiopia, China | Cofinancier | of which USD 1,000,000 financed by OFID |
| Form of finance: | Grant | PEA: | The International Centre for Bamboo and Rattan (ICBR) |