CFC attends UN session on the implementation of Vienna Programme of Action
Ambassador Sheikh Mohammed Belal, Managing Director of the Common Fund for Commodities (CFC), emphasized the role of partnerships and opportunities for technical assistance and capacity building in implementation of the VPoA (Vienna Programme of Action). Amb. Belal made the comment during his virtual participation at a panel discussion at the Inaugural Meeting of the LLDCs National Focal Point Network, which was held in Geneva on 16 June 2022, organized by the United Nations Office of the High Representative for the Least Developed Countries, Landlocked Developing Countries and Small Island Developing States (UN-OHRLLS).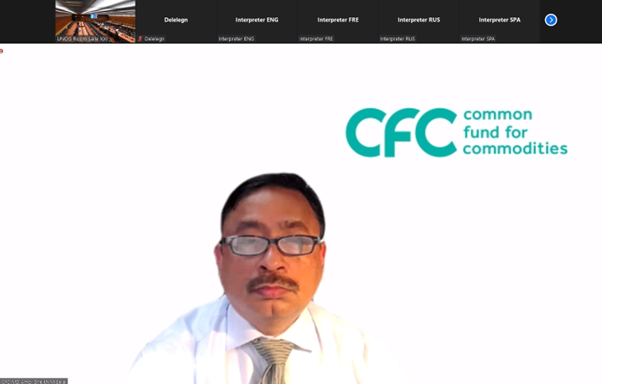 Amb. Belal highlighted the fact that the LLDCs have been recognized as a special priority group on CFC operations from day one, but a renewed urgency was imparted since the implantation of the VPoA. CFC MD also informed the session that a total of  26 projects have been approved by CFC's Executive Board to receive financial support from the Fund. The total value of these projects is USD 80.6 million, of which about USD 26.5 million is committed by the CFC. The CFC works with several partners to mobilize additional capital for the commodity producers in developing countries, including LLDCs.
During this panel discussion, Amb. Belal narrated two separate TA Facilities currently manages by CFC: the Africa Agriculture Trade and Investment Fund (AATIF) Technical Assistance Facility and the Moringa Investment Fund Agroforestry Technical Assistance Facility (ATAF). Technical Assistance measures implemented in these two facilities consist of hands-on and customized services to the investee companies. The TA projects spread over several countries across Africa and Latin America, including seven LLDCs (Botswana, Malawi, Mali, Rwanda, Uganda, Zambia, and Zimbabwe), helping these countries to have access to qualified technical support.
Amb. Belal commented that sustainability is a mission impossible if anyone wish to do it alone, no matter how big they are. Thus, he urged the support and assistance from partners and relevant stakeholders towards the path of the shared journey of sustainability and alleviation of poverty.
On the second day, on 17 June 2022, the meeting further discussed progress made by Inter Agency Consultative Group (IACG) members in the implementation of VPoA and the Roadmap since the last meeting of the Group in July 2021 and exchanged initial views on the third UN Conference on LLDCs scheduled in 2024. CFC looks forward to participating in the UN Conference on LLDCs.