Ambassador of the Kingdom of Saudi Arabia visits CFC
H.E. Mr. Ziad M. Al Atiyah, Ambassador of the Kingdom of Saudi Arabia to the Netherlands, is seen with Managing Director Ambassador Sheikh Mohammed Belal at the Secretariat of the CFC. H.E. Mr. Ziad M. Al Atiyah came to visit CFC, for the first time, to know more about the activities of the CFC and its impact on the ground.
Ambassador Al Atiyah was accompanied by Mr. Meshal Alblawi, Head of Political and Economic Affairs; and Mr. Abdullah Alshahrani, First Secretary at the Embassy. Ambassador Belal was accompanied, virtually, by Mr. Andrey Kuleshov, Chief of Strategy and Development, and Mr. Peter Nielsen, Project Manager.
In the beginning, Ambassador Belal briefed Ambassador Al Atiyah on the history of CFC's becoming an international financial organizations under the auspices and leadership of the United Nations Conference on Trade and Development (UNCTAD). Ambassador Belal also briefed Ambassador Al Atiyah on the current as well as probable future initiatives of the CFC. Ambassador Belal requested Ambassador Al Atiyah to help CFC towards scaling up with their success stories and thereby help CFC to improve the format and character of CFC projects.
Ambassador Belal also briefed Ambassador Al Atiyah on the ongoing initiative on the formulation of a fund titled CIIF (Commodity Impact Investment Facility) and thereby enabling CFC to contribute more for alleviation of poverty. Once formed, CIIF could also be an avenue for the Kingdom of Saudi Arabia to join this impact investment fund as an anchor investor.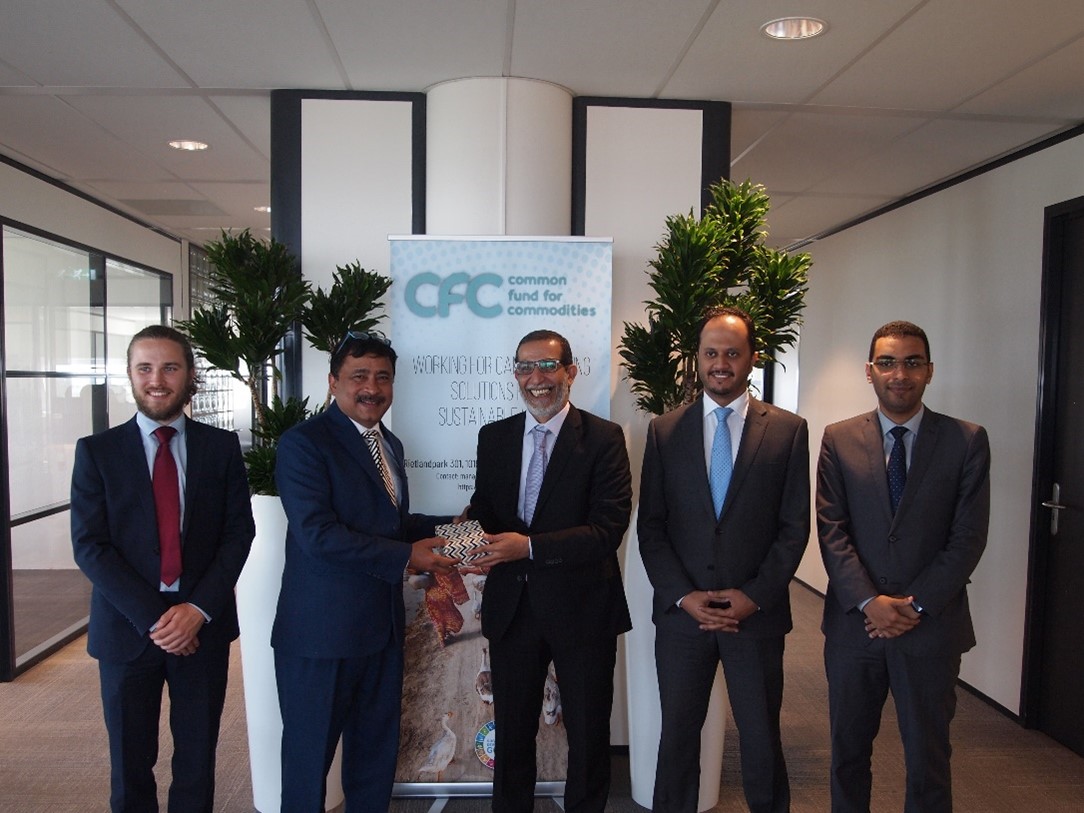 Before taking leave, Ambassador Al Atiyah reiterated his country's total support for the CFC as , in his word, "helping the poverty stricken people is the primary duties of all human being".  Highlighting Kingdom of Saudi Arabia's generous ODA (Overseas Development Assistance) contributions globally and   Saudi Fund for Development (SFD)'s innovative works for sustainability, Ambassador Al Atiyah stated that CFC is their natural partner and as such, they will explore options to make CFC deliver more towards easing the commodity dependence globally.
Ambassador Belal congratulated Kingdom of Saudi Arabia for their consistent track record of generous ODA support and healthy turnaround of their economy defying the global problems of the pandemic and the conflicts. Ambassador Belal also assured to pursue more innovative outreaches in the days to come to make the services of CFC available to as many people as possible in the commodity dependent developing world, with a heightened sense of innovations and creativity.