CFC Extends support to Kenyan Smallholders
The CFC continues supporting Olivado EPZ Limited ("Olivado"), an avocado oil processor and exporter from Kenya sourcing 100% of its produce from smallholder farmers. The loan will allow Olivado to further grow its integrated farmer-to-market model based on a Fairtrade and Organic certification scheme and pay smallholders in advance. Through this strengthened relationship with the CFC, Olivado expects to include up to 5,000 smallholder farmers in its inclusive small farmer program in Kenya and Tanzania, enjoying premium prices and a secure income.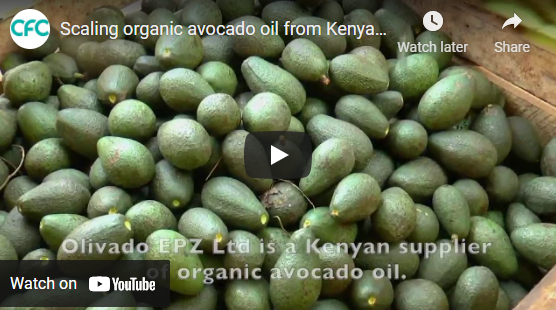 In Kenya, over 70% of avocados are grown by smallholder farmers owning 5 to 20 trees, which can be up to 15 meters high. The trees are grown on small biodiverse farms, alongside maize, beans, bananas, and other fruit and vegetable crops. Despite the challenges posed by COVID-19, Olivado has had a significant impact on the smallholders. In 2020, it has enrolled 800 new farmers in its organic training programs, increasing incomes and livelihoods of 3,100 farmers (up from 2,300 in 2019). CFC's trade finance facility has been fundamental to timely secure working capital and to upscale its unique small farmer scheme built on farmers' advances, guaranteed offtake arrangements of at least 95%, advance payments, and premium prices for EU Organic and Fair-for-Life certifications.
Ensuring complete traceability from farm to bottle, Olivado has a rigorous farm-to-market system reliably tracing the quality and origin of avocado on farmer level. Mobile-based software tools are used to monitor its farmer network, providing full visibility on farmer profiles, number of avocado trees, field activities, procurement records, yield forecast per farmer, and other farm details. A dedicated team of field officers regularly visit the farms and support the farmers during cultivation, advise and train them, and assess the number of avocados each tree can produce; this enables Olivado to estimate the quantities of oil and fresh fruit for the season.
Besides extension services, Olivado buys both the fresh avocados as well as the non-export grade ones which can be used for oil processing. This is a big advantage Olivado can offer farmers. Rejected avocados were either self-consumed or sold at very low prices on the local market. Now not only smallholders are provided with a premium price for their fair trade certified organic avocados, they are also investing in their children's education and general welfare of the family.
The impact of Olivado extends beyond benefiting smallholder farmers. In 2020 the company produced 4,000 MT of avocado (up from 3,000 in 2019) and cultivated 5,200 acres (up from 4,021 in 2019) on small organic and biodiverse farms, thereby contributing to SDG 2 (Zero hunger). Moreover, the number of skilled permanent jobs at the processing facility has increased to 80 employees (up from 75 in 2019). Given relatively higher presence of women farmers, about 45 per cent, Olivado helped opened a new vista for these women to shape a future they like and thereby contributing to SDG 5 (Gender equality) as well.
Providing farmers a market for non-export grade avocados, Olivado has also commenced an oil extraction plant in Tanzania to exploit unmet market demand for avocado oil and thereby addressing the problem of post-harvest loss (SDG 12-Food waste index). Striving to become carbon-neutral by 2022, Olivado is pursuing its policy of zero carbon emission with the establishment of biogas plant (SDG 13-Climate action).
The biogas plant is intended to help achieve emissions reductions and mitigate the impact of climate change through capturing organic wastes, producing renewable energy, and returning nutrients and organic content to the soil. CFC is also considering an investment in Olivado's new biogas plant in Tanzania, using avocado waste to produce gas and organic fertilizer. Olivado will be the first industrial operation in Tanzania to have zero carbon emissions through the of use carbon-neutral energy.
Ambassador Sheikh Mohammed Belal, Managing Director of the CFC comments: "We are proud to extend our partnership with Olivado to unlock the market potential for sustainable avocados from smallholder farmers, contributing to biodiversity and sustainable use of natural resources. Olivado's pathways in improving the livelihood of the smallholders through, among others, training on agronomic skills, markets and services, is a template to alleviate people from poverty."
Gary Hannam, Founder and CEO of Olivado: "Our continued partnership with CFC enables us to further grow our farmer network and maximize our export potential in the organic avocado oil market. CFC's working capital funding has been instrumental in strengthening our relationship with farmers. We are grateful for their continued support during this difficult COVID time, understanding the obstacles we face and believing in our mission to preserve the organic, biodiverse land of our farmers and our ambition to become a carbon-neutral avocado oil processor in Tanzania to follow this achievement in Kenya."
CFC wishes to register its thanks to Plant & Food Research, New Zealand and others for their support to make Olivado both a business and an inspiration for the local smallholders.